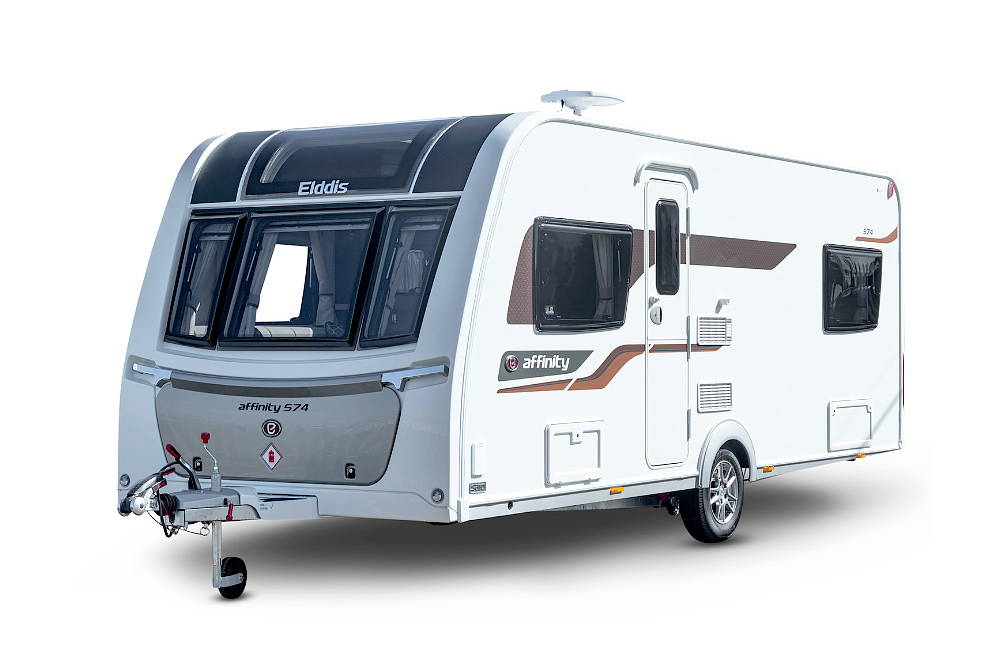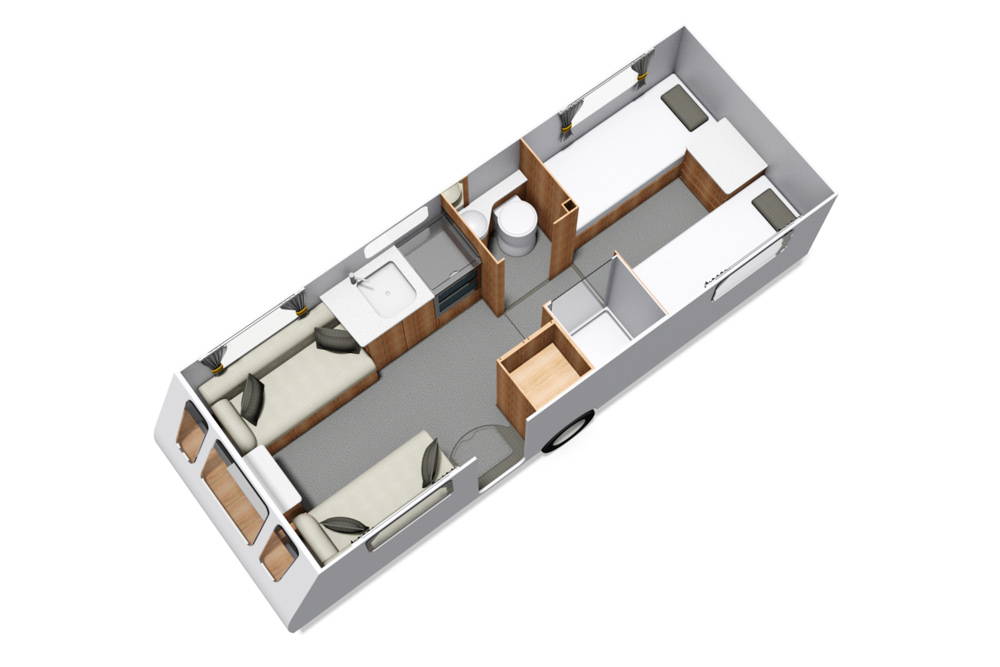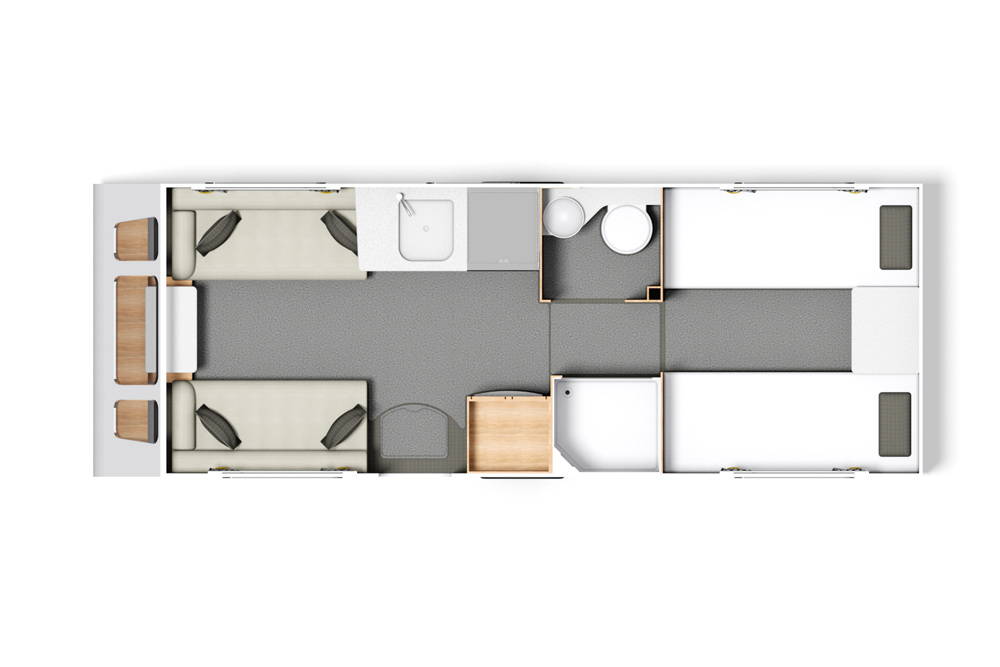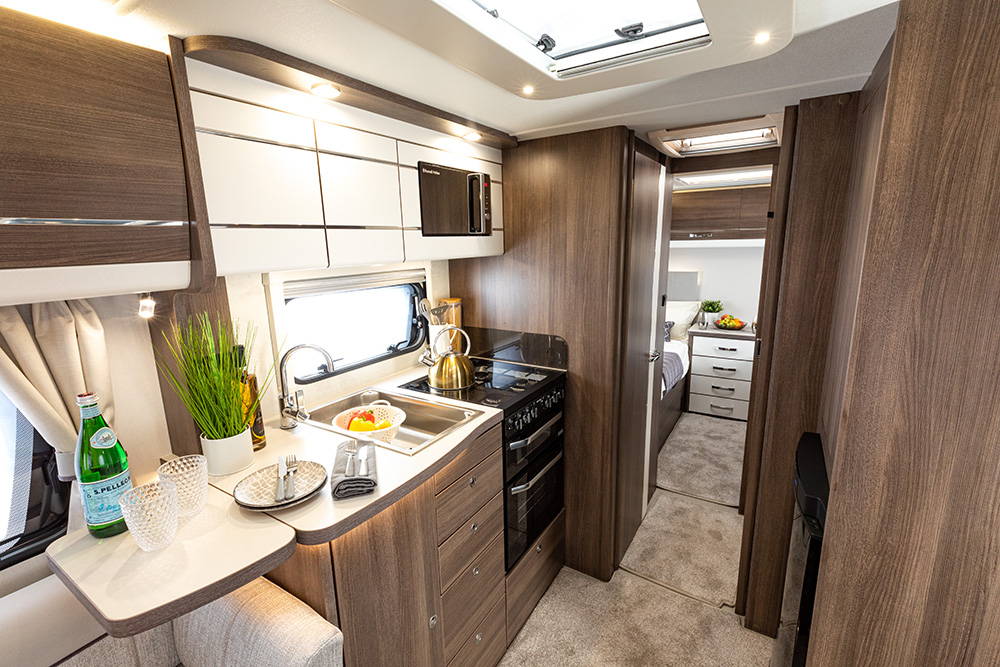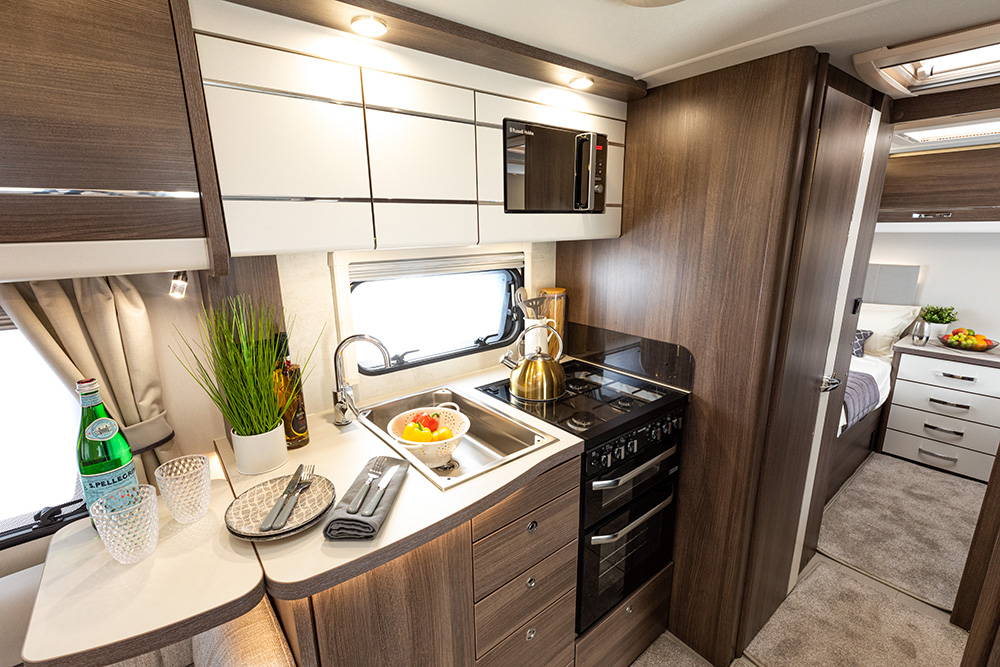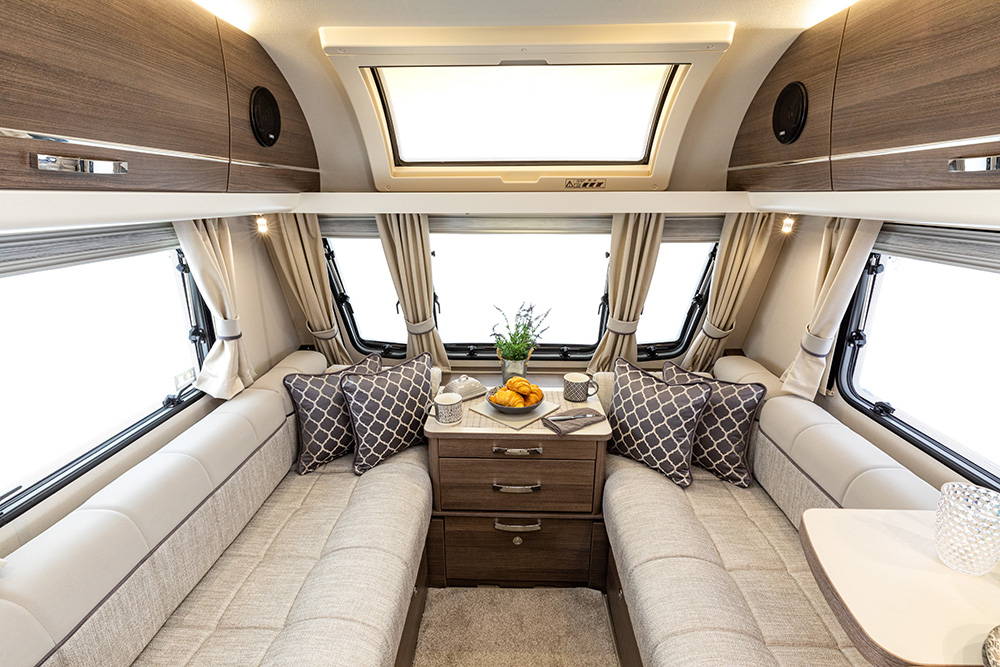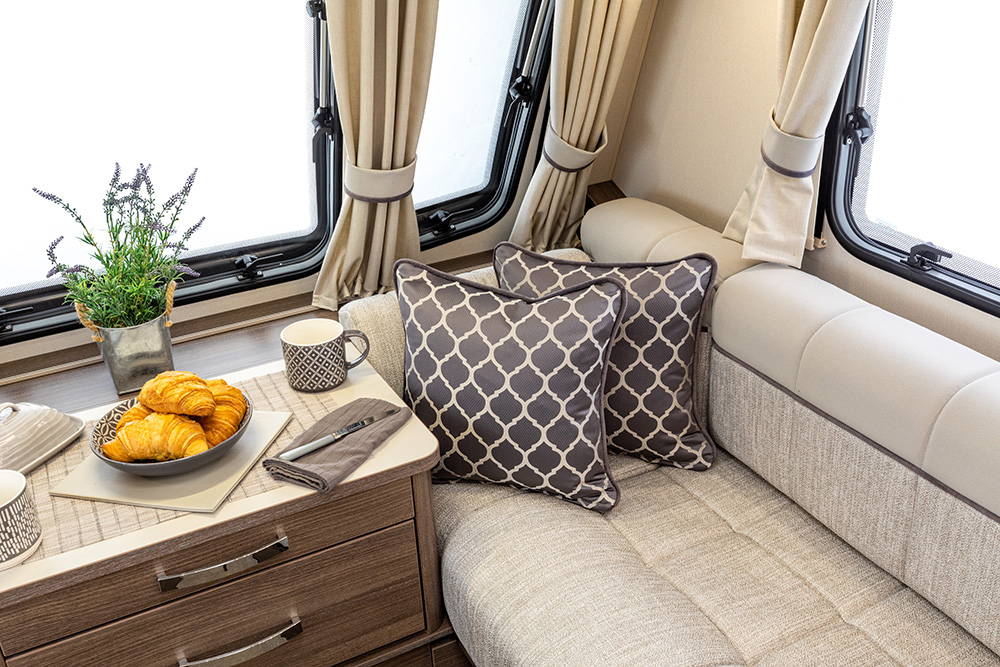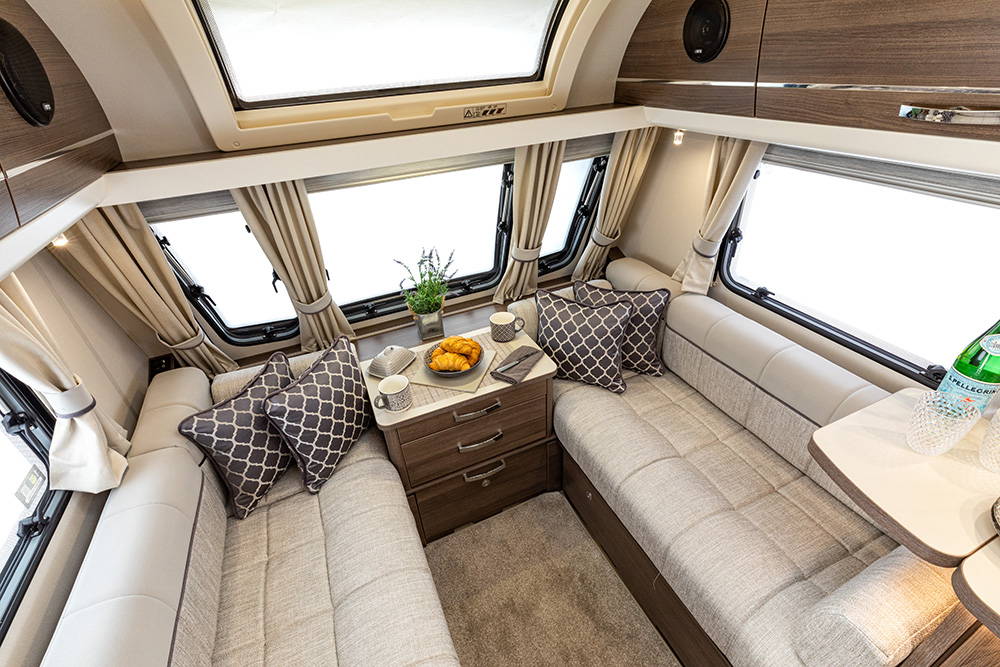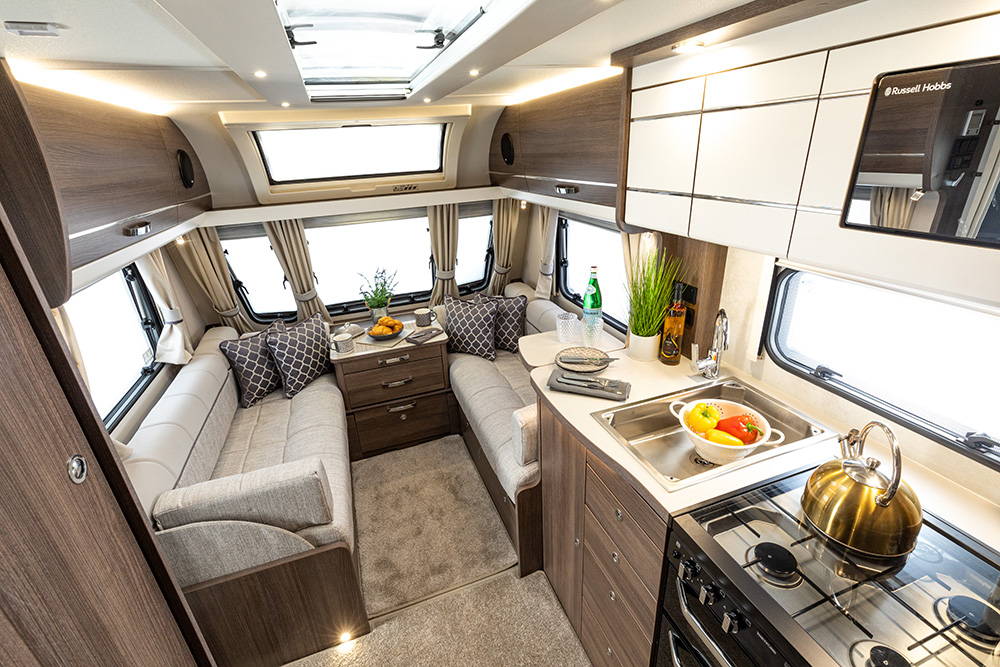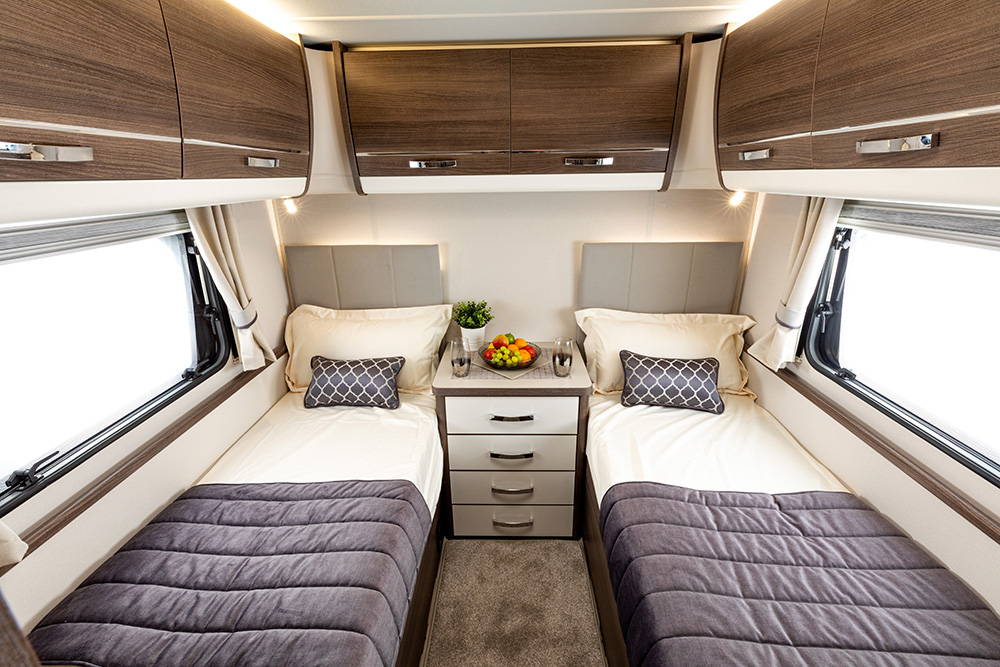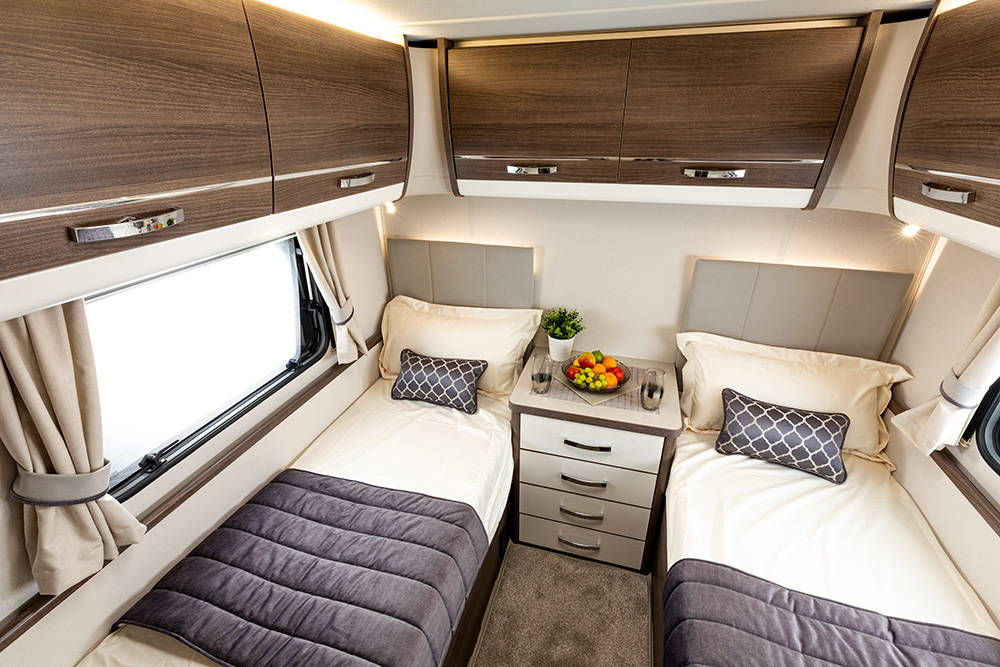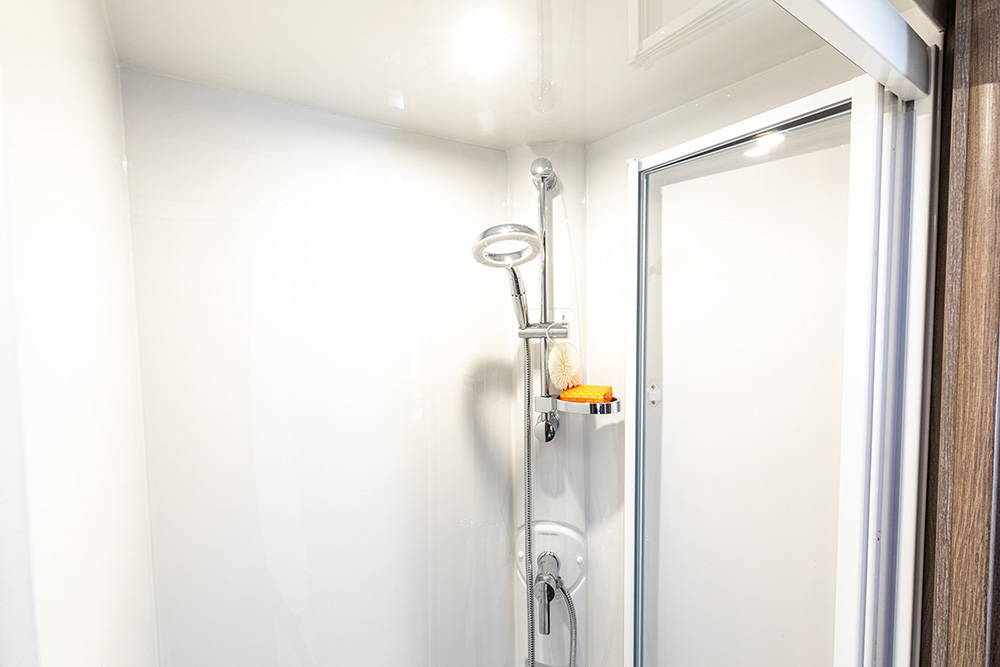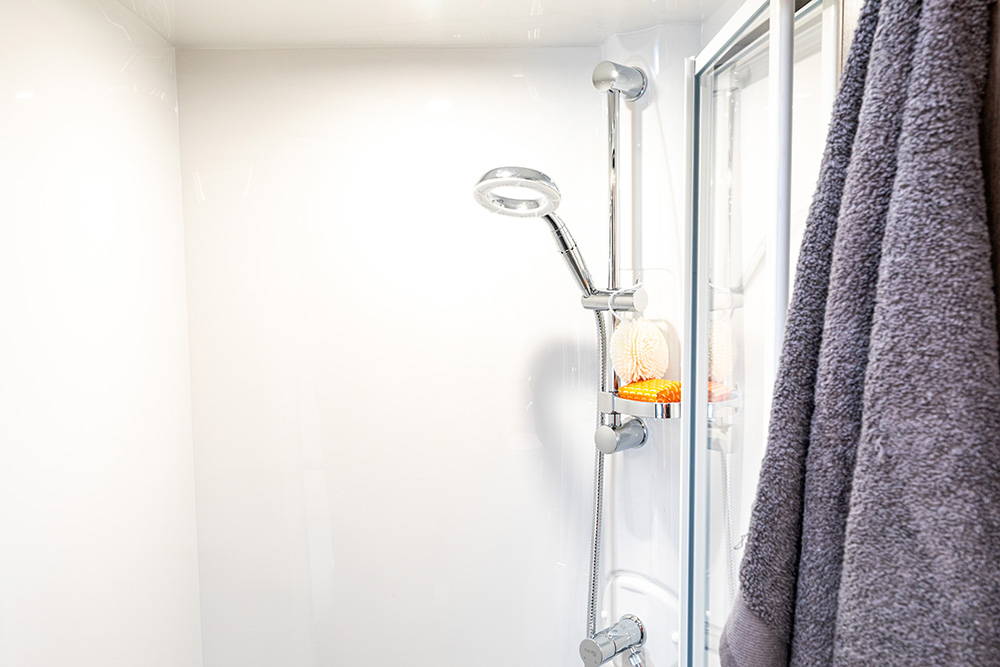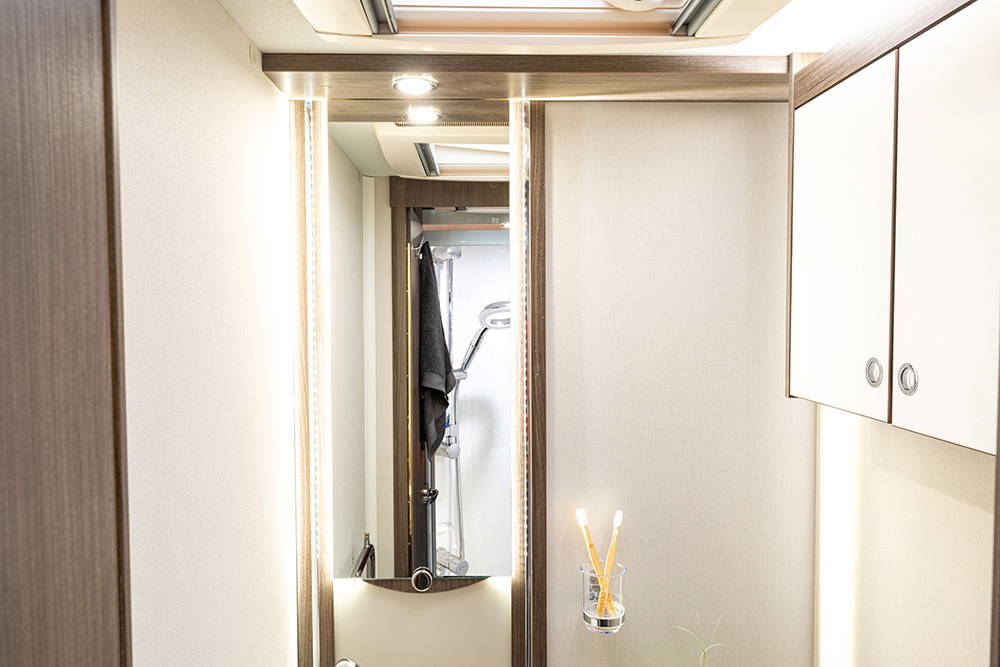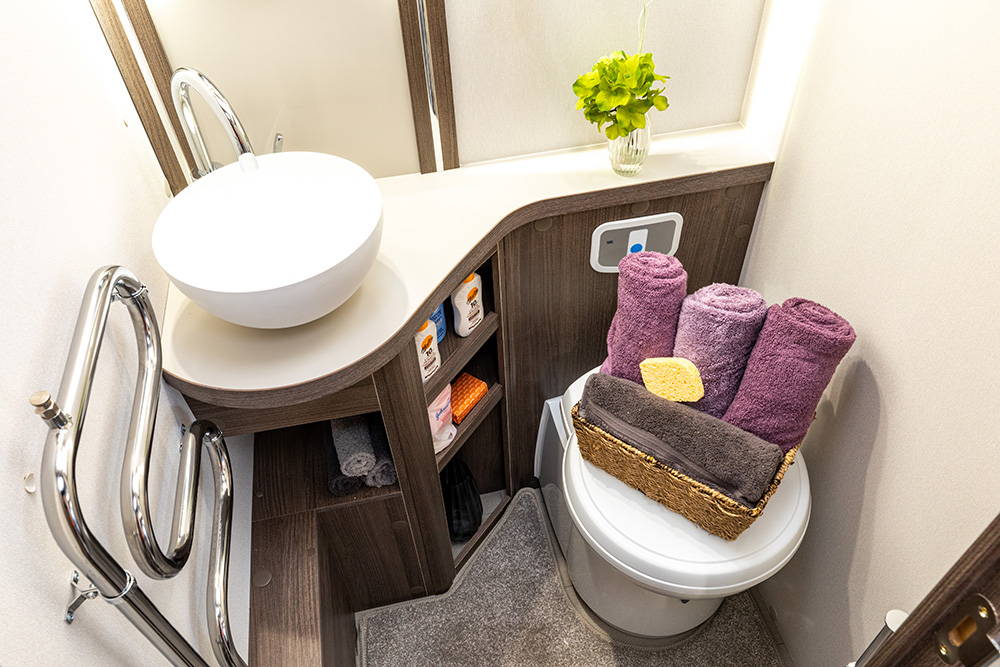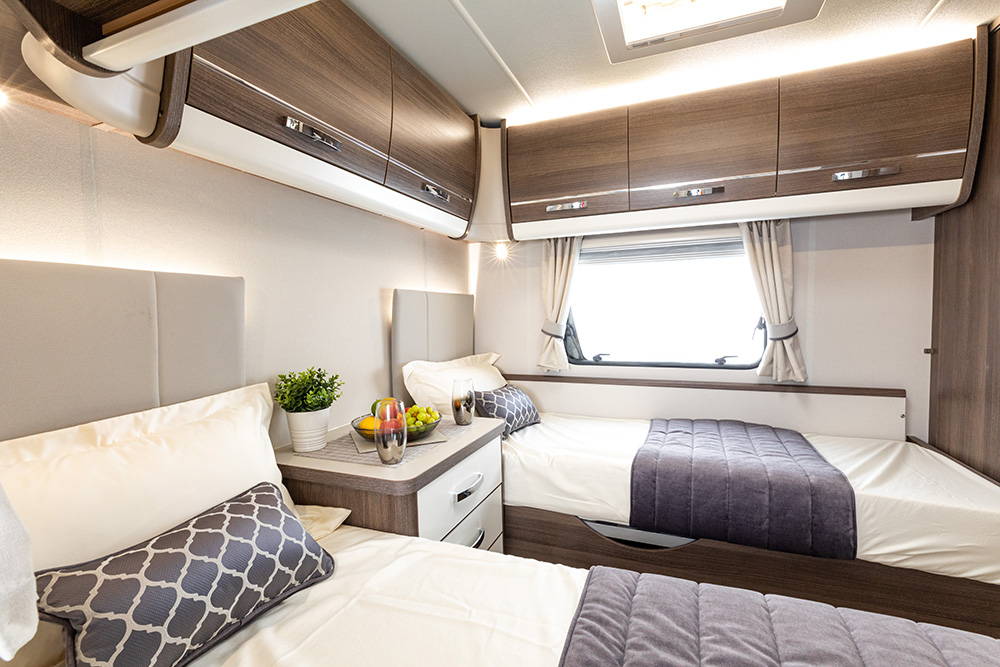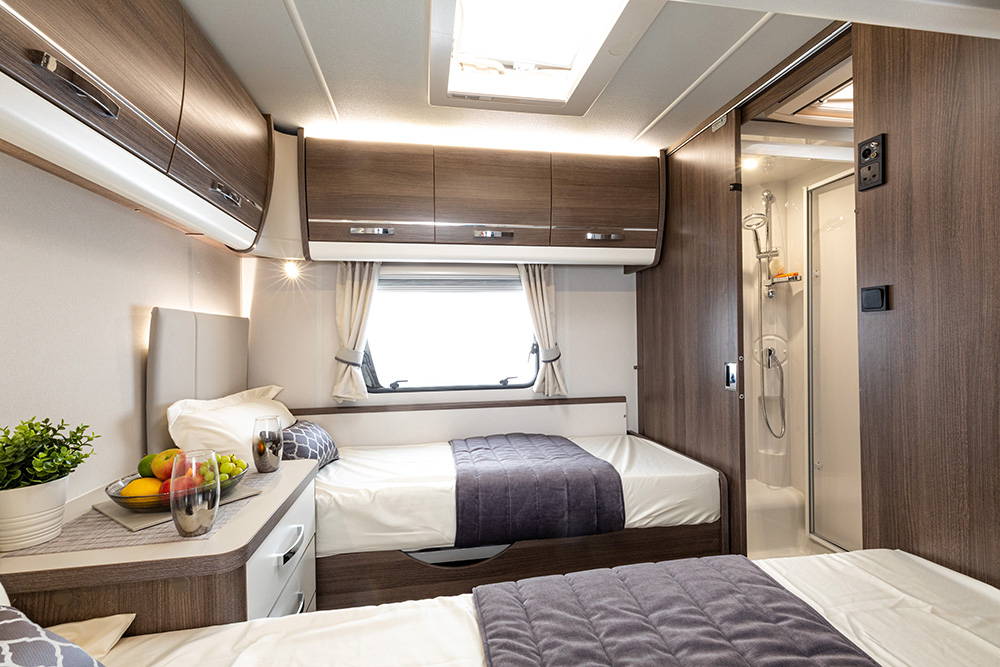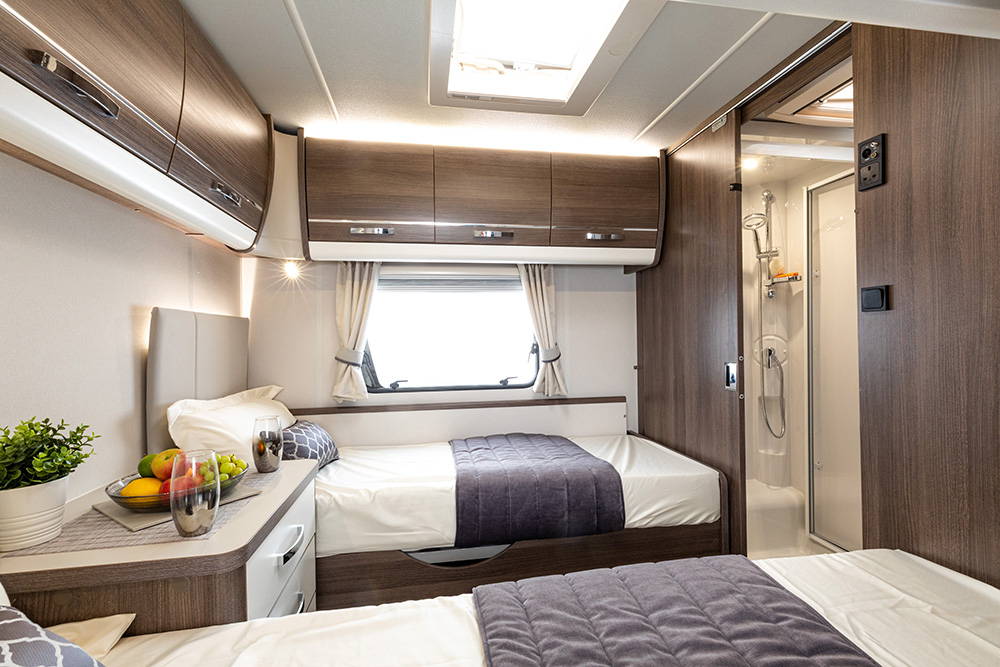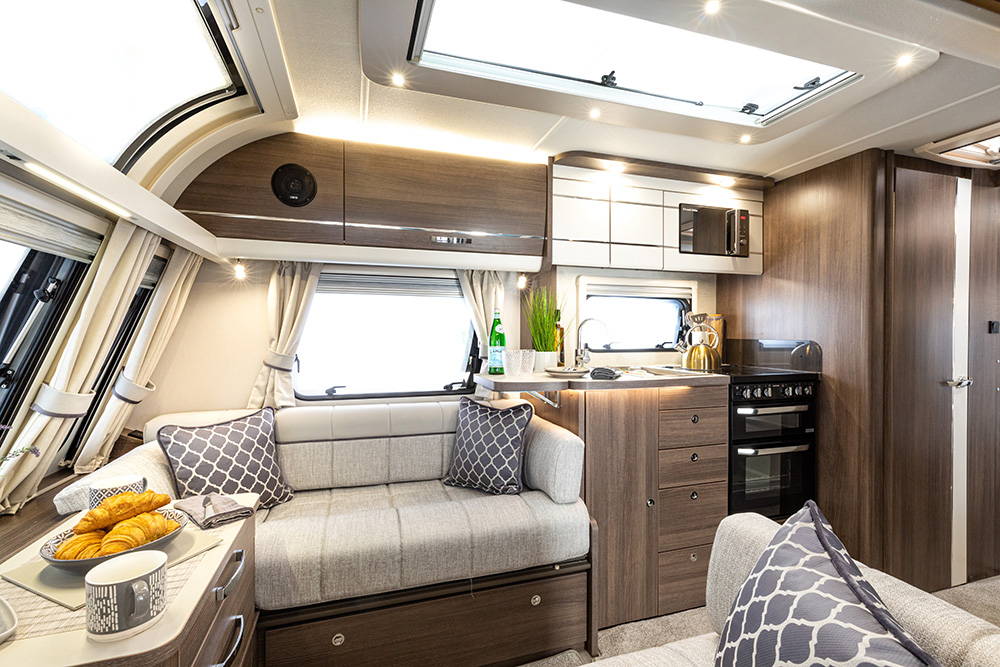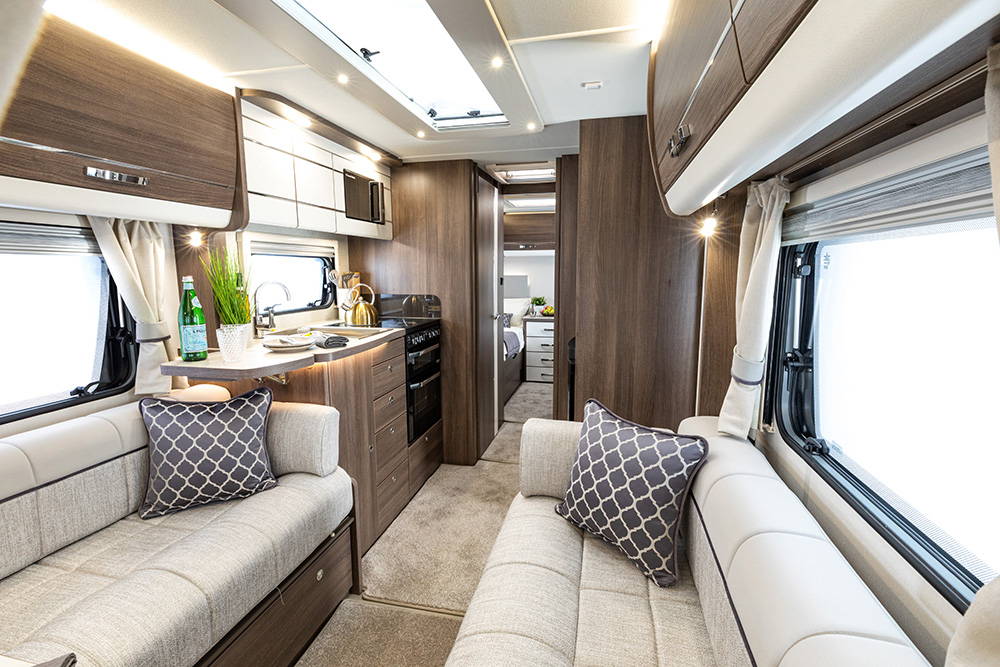 | | |
| --- | --- |
| Year | 2021 |
| Range | Affinity |
| Product Name | Affinity 574 |
| Number of Berths | 4 |
| Wheel Rim Size | 5 1/2JX14 5X112 |
| Brake Size | NULL |
| Tyre Size | 185 R14 104 |
| Tyre Pressure | 61 |
| Internal Length | 5600mm / 18'4" |
| External Length | 6100mm / 20'0" |
| Shipping Length | 7200mm / 23'7" |
| Overall Width Inc Wing Mirrors | 2260mm / 7'5" |
| Overall Body Width | 2260mm / 7'5" |
| Overall Height | 2650mm / 8'8" |
| Maximum Headroom | 1950mm/6'5" |
| Internal Width | 2120mm / 6'11" |
| Awning Size | 10100mm / 33'2" |
| Front Beds | 1 x Double 1127mm x 1992mm 3'8" x 6'6" |
| Side Dinette | NULL |
| Rear Beds | 2 x Single 710mm x 1855mm 2'4" x 6'1" |
| Maximum Hitch Weight | 100kgs / 1.97cwt |
| Mass in Running Order | 1316kgs / 25.90cwt |
| Optional Equipment Payload | NULL |
| Maximum User Payload | 151kgs / 2.97cwt |
| Plated M.T.P.L.M | 1467kgs / 28.88cwt |
| Max M.T.P.L.M | 1500kgs / 29.53cwt |
Note 1: The Mass in Running Order includes a manufacturing tolerance for material variances and 10kgs per gas bottle, the number of bottles is equal to the number of connections provided at the regulator.
Note 2: Maximum User Payload includes the Personal Effects payload and the Optional Equipment Payload.
Note 3: If you require a larger payload it is possible to upgrade the Plated Maximum Technical Permissible Laden Mass. Please contact your supplying retailer for more information. (Exclusions may apply)
Note 4: Please take care to ensure that you have allowed for the masses of all items you intend to carry in the caravan.
Note 5: Warning under no circumstances must the plated MTPLM of the caravan be exceeded.
Note 6: The porch awning height is measured directly above the main entrance door
Note 7: All data is calculated using metric weights and measurements. The imperial figures quoted are conversions thereof.
Note 8: All dimensions have a tolerance of +/-25mm
Note 9: The overall height measurement is taken with the aerial in the lowest position.
Note 10: All front bed sizes are quoted with the front chest of drawers in place. (Where Applicable)
The Elddis Affinity range from Elddis is designed to delight the most discerning of caravanners.
The multi-award-winning Affinity is an exciting and totally unique range of lightweight luxury touring caravans – all with ALDE's central heating system, Sky-Scape panoramic sunroof - yet all weighing in at less than 1500kgs MTPLM!
Despite its light weight, the Affinity boasts an abundance of features as standard, quality craftsman-built cabinetry, and stylish detail inside and out. You can have it all … and at a surprisingly affordable price!

Key features
Exterior:
All models are single-axle and under 1500kgs MTPLM
AL-KO Chassis with AKS 3004 stabiliser and ATC
'StrongLite Aluminium one-piece sides – up to 40% stronger and 30% lighter
Stone-chip resistant front panel
Illuminated gas locker
NEW GraphicsNew Kromex badges
Balanced wheels
Spare wheel and underslung carrier
External Gas barbecue point
Exterior access locker door with 230V socket
Sky-Scape panoramic sunroof
Interior:
Stargazer rooflight
Alde 24hr central and water heating system
ALDE Load Monitor – never trip out your electrics!
Grade III Thermal Insulation for year-round use
NEW Contemporary interior design and luxurious 'Pearl' upholstery with ActivCare protected hi-performance, lightweight construction, with 4 x co-ordinating scatter cushions as standard and 4 x arm rests as standard.
Pleated blinds
Oven and grill
Dual fuel hobMicrowave
EcoCamel water-saving shower
Heated towel rail
Back-lit bathroom vanity mirror
Retractable bed – creating 400mm extra floorspace in daytime mode
'Cassino Ash' Craftsman-built cabinetry with positive locking
This website content does not constitute an offer by Elddis. Elddis reserves the right to, and does alter from time to time, technical specifications, prices and model ranges as materials, model improvements and conditions require, and can accept no responsibility for discrepancies between models shown and subsequent models. This website is for guidance purposes only. Please be sure to check our full current and technical specifications with your retailer before placing your order.
Please note that Approved Retailers are not the agents of Elddis. Accordingly they have no authority to bind Elddis or to make any representation or undertaking whatsoever on behalf of Elddis.
Props shown on this website are for photographic purposes only and are not included in the specification. Bed covers and additional scatter cushions shown are for demonstration purposes only, similar co-ordinating sets are available to purchase from your Elddis retailer.